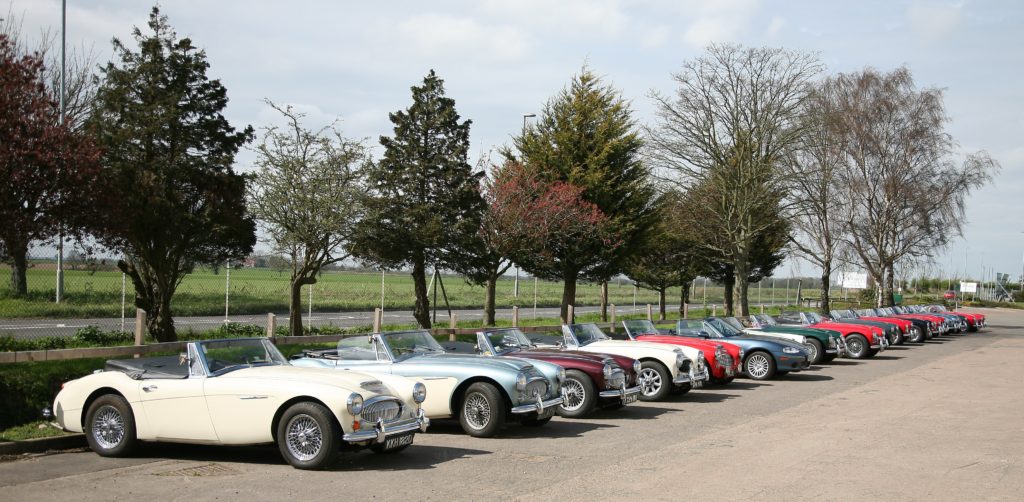 19th - 22nd April
Daffodil Weekend, details to follow, but David Wheeler has agreed to run this popular event again, his email is wheelerd@blueyonder.co.uk
22nd April
Sunday


Drive it Day There will be lots going on marking this important motoring heritage event, keep a look out for your favourite.
29th April
Sunday
Wings and Wheels, Old Buckenham Airfield, Norfolk, NR17 1PU. Classic cars very welcome here, driver free, others £2. Book a space on their website
4th/7th May
Northern Lakes Weekend based at Backbarrow, Cumbria. Paul Johnson on 01270 650593 is your contact for this one, his email is chairman@ahc-northern.org.uk
6th/7th May
Stratford Festival of Motoring
13th May
Sunday
Battlesbridge Spring Classic Car Show and Autojumble Always popular with Eastern Centre members. Details to follow, be in place before 10.00am. Queuing likely.

18th - 20th May
National Sprite 60th Birthday celebrations. Change of venue here, so far a one day event will be held at Shelsey Walsh and Tony Curran is working hard on additions in the area to mark this important anniversary. Helpers needed. Latest details on the website at Sprite60.org or from Tony on info@sprite60.org
30th May-2nd June
Rallye 1000 Virages scenic tour, please see their website, you need to brush up on your French or German for this one - www.1000virages.com
2nd June,
Saturday
Letchworth GC Classic CC Picnic. Relaxed afternoon with a real country picnic atmosphere, music, beer tent, teas, etc. more details later
24th June
Great Saling Classic Car Display and traditional country fete. Piccotts Lane, CM7 5DW. Opens at 1pm, but arrive and leave at any time, free entry for all classic occupants for a range of entertainment and very good refreshments.


10th June
Sunday
Euston Park Rural Pastimes Great country show with all sorts of exciting events including classic cars. Booking form not available yet, further details soon, your club contact will be Angela Bonner (email social@ahc-eastern.co.uk)
8th July
Sunday
Kimbolton New Members Day

This year we hope to return to our normal format complete with marquees etc.

Our theme will be A Birthday Party to celebrate the 60th birthday of the Sprite we will have various sprites and derivatives as the frontage (Big Healeys will take the back seat on this occasion)
6th - 8th July
Classic Le Mans. Super event well supported by Eastern members in the past, Travel Destinations do a variety of packages, or link up with other local people to travel as an AHC group (More details soon)
28th - 29th July
Old Buckenham Airfield. Classic cars and flying displays, book in on their website, Classic drivers and all passengers free at this event, book early, was full in 2017.
26th August
Sunday
Little Gransden Airshow and Classic Cars Entries will probably be limited on the club stand again this year at this popular show, so keep abreast of developments later in the year. Your contact will be Richard Mayes on secretary@ahc-eastern.co.uk
31st Aug/3rd Sept.
Eastern Centre Weekend, Ufford Park, Woodbridge. In honour of the Sprite anniversary, Chris and Angie Davis are organising this one in the lovely Suffolk countryside. Please register your interest as soon as possible with them on canda3000@hotmail.com as this will be offered first to Eastern members, then open to other areas and possibly the Dutch club, depending on availability. If you want to go, tell them soon!
In addition there will be two Classic Car Shows at Duxford, dates not available yet, 1st Saturday pub meet at The Horse and Groom, Cornish Hall End, 1st Sunday Breakfast Club at Colmworth village hall, (this starts again in the spring), 3rd Saturday pub meet at The Bluebell, Hempstead, and of course our regular Noggin and Natters, see back of Mutterings for details, not to mention all the race meetings, most classic events have Healeys competing, check the websites for details and dates.

Plenty already for you to note in next years diary, keep watching the website, don't forget Mutterings is going electronic, without your current email address you may miss out, make sure we have this.

Stay safe, keep Healeying!! Angela